The Motorola Wave PTX Dispatch application is intended for dispatch and control workplaces. Dispatch workers can communicate very effectively with their colleagues in the field through this web application. In addition to voice communication, the Motorola Wave PTX Dispatch application offers real-time GPS location monitoring of individual colleagues, archiving of all voice and data communication with later playback, sending of messages, photos, files or videos. Access to the service and its functionality is conditional upon the conclusion of a subscription agreement and the payment of a fee, which includes a 12-month subscription to the service. The Motorola Wave PTX service is provided by Motorola Solutions only to corporate customers (legal entities). Center Net, spol. s.r.o. as an authorized partner of Motorola, it mediates the service and provides technical and sales support.
General information about the service
The Motorola Wave PTX Dispatch - Dispatch service can be used via a web browser on a PC with Windows 8.1, Windows 10 and higher operating systems. For web functionality

Motorola Wave PTX Dispatch web application - Dispatch
The link to the web application will be generated and sent electronically after the conclusion of the contract for the provision of the service and payment of the annual subscription. The service can be ordered for at least 1 user - a dispatcher and another 1 subscriber of the Motorola Wave PTX service (i.e. 1x Motorola Wave PTX Dispatch service (Dispatcher) + 1x subscriber with the service Motorola Wave PTX Mobile App / Motorola Wave TLK / Motorola Evolve / Motorola Mototrbo ION, etc. .).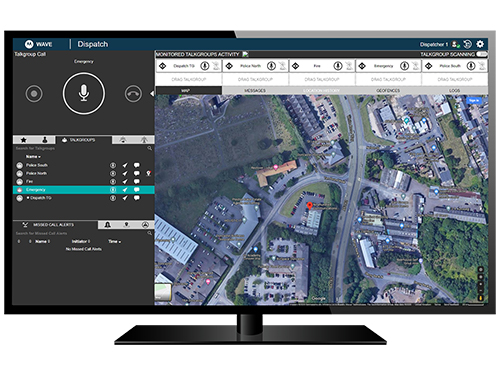 Main features of the Motorola Wave PTX Dispatch web application - Dispatch
Group and private Push To Talk (PTT) voice communication
Monitoring of up to 20 user groups
Real-time communication
Sending and receiving text messages, up to 2000 characters
Share videos, photos and files, GIF, JPEG, PNG (15MB), MPEG-4 (15MB), AAC, MP3 (15MB), PDF
User streaming video with Motorola Wave PTX service (tariff/license + Streaming Video)
AES256 secure communication
GPS location of co-workers with a mobile device and activated Motorola Wave PTX service, map background
Archiving records
Geofencing - zones
Ambient Listening - eavesdropping on the surroundings of a mobile device (SafeGuard tariff/license)
Setting and receiving alarms from individual users of mobile devices (SafeGuard tariff/license)
User activation and deactivation (SafeGuard tariff/license)
Adjustable Scan function for talkgroups
A wide selection of wired and wireless accessories for easier operation of the application (you can control the transmission with an external PTT button)
Minimum hardware requirements - PC: Processor Dual Core 2.1 GHz Intel Core i5, RAM 8GB, sound card, microphone and speakers (external audio kit)
2 Mbps or higher connectivity
Web browser Internet Explorer 11, Chrome 45 and higher
Communication with Motorola DMR radio stations via the Wave PTX Radio Gateway interface